Hi, I'm Karen
So nice to meet you!
Remember what it felt like when you were expecting your first child? The excitement and anticipation of starting a family and holding your little bundle of joy for the first time.
And your deepest desire to do everything right.
There are many things we're not prepared for when we become parents…
Your bundle of joy can be giggling and cuddling in your arms one minute, then turn into a bundle of fury the next because you gave them the wrong colour spoon.
Tweens declare they don't need you any more, then climb into bed next to you and snuggle up close.
It can be overwhelming to have responsibility for the well-being of a tiny human being (or several!) who needs you day and night.
There are times you don't recognise yourself, you act and react in ways you never thought you would struggling to meet the demands of everyday life as a family.
The more you try to fulfil the role expected of you as a parent, the more you feel removed from yourself.
You can love and feel love with an intensity you never knew was possible. And anger, guilt, anxiety and shame, too.
I've been there
I'm a certified parent and family coach and a mum to three amazing children – a teenage son and pre-teen twin daughters born not quite two years apart. Yes – three under two!
I know what it's like to want to have loving, connected and trusting relationships with your kids.
I know that being a parent is the most wonderful, rewarding and joyful experience – and also more challenging, overwhelming, physically and emotionally demanding than anything you've ever done before.
Maybe you're triggered by your child's behaviour and don't understand why they're acting the way they do – or why you react the way you do.
It's all about the relationship
Through my years as a parent, my educational-psychological training and working with parents, I believe having peaceful, deeply connected and joyful relationships with your kids is about three things::
Understanding child development, why kids act the way they do and what they need to grow up healthy and capable
Developing self awareness around your own beliefs, pattern, habits and unmet needs that stand in the way of you being the parent you want to be, and
Choosing connection.
Choosing connection is making the kind of relationship you want to have with your child the focus of your interactions with your child, your beliefs, thoughts, choices and actions as a parent.
Choosing connection is connecting with yourself. It means understanding the role your own beliefs play in the way you're able to connect with your child, learning to recognise and acknowledge your own needs, knowing, loving, trusting and believing in yourself, re-connecting with your inner child, and giving yourself permission to be perfectly imperfect.
Choose connection over coercion, shift from reacting to responding,
go for intention over perfection.
It's possible for kids to grow up kind, responsible and resourceful without coercion, power struggles, endless discussions, threats, bribes, time-outs, "tough love"- discipline and punishment.
In fact, building strong relationships with your kids based on (self-!) empathy, respect, kindness and trust, and developing resources to handle emotions constructively, gives your kids the best start in life and provides you with a rock-solid foundation to meet and overcome the challenges of everyday family life, even – and especially – on the hard days.
This is the basis of my work. It's grounded in a fundamental shift in the way we see children and the parent-child relationship, in self-awareness and empathy, choosing connection over coercion, shifting from reacting to responding, going for intention over perfection, and backed by child development research and neuroscience.
I don't have all the answers. I have chaotic and crappy days, conflicts and difficult situations just like all of us. And I'm passionate and committed to sharing my knowledge and experience, and enabling other parents to find their answers for a calm, joyful and peaceful family life.
If you're looking for new ways to connect with your kids, to handle difficult situations differently or want support building strong, constructive relationships in your family, you've come to the right place.
The families I work with tell me that parent coaching is a game changer and continues to enrich their family life long after our work together. If you want to know more, see what other parents say below.
You don't need to do it alone.
I believe that if we can find peace and self-awareness on our parenthood journey, it'll change our lives, the lives of our children and the world for the better.
Because when we develop self-awareness and self-compassion, we treat our kids respectfully, with empathy, kindness and compassion. And they develop the skills to treat others with respect, empathy, kindness and compassion, too.
When we understand and help them handle their feelings and emotional needs, they learn self-awareness, self-esteem and resilience.
By working on our own self-awareness, we help our kids learn problem solving and conflict resolution. Not only do these skills make for a more connected and peaceful family life but they are the skills our world desperately needs in future generations.
Let's connect!
I'm so glad you found your way here. Thank you for reading this far! If you'd like to stay in touch, join my community and sign-up for my email updates. You can also check out my coaching packages here.
Want to talk in person?
since 2017 Parent & family coaching practice
September 2021 familylab Teenpower facilitator training
July 2021 Understanding Children Better – Teenagers (11-18 yrs) course facilitator certification
2021 Somatic Emotional Integration® – Recognising and healing early and developmental trauma
2020 Professional seminar series: The Power of Comfort; The Power of Words; Understanding Teenage Cries for Help.
2020 Introduction to Addictive Habits – The Coaching Academy
2020 How Couples Relationships Succeed – Relationship-oriented couples coaching and support
2020 Introduction to Psychology; The Science of Well-Being; and Moralities of Everyday Life – Yale University
2019 Attachment- & relationship-oriented parent & family coaching certification
2017-2019 Educational-psychological coaching training
2019 Understanding Children Better – School Children (6-12 yrs) course facilitator certification
2018 Understanding Children Better – Toddlers & Preschoolers (1-5 yrs) course facilitator certification
2016-2019 Attachment- & relationship oriented parenting & education fundamentals
2016 Blog – self-directed learning, rethinking adult-child relationships in education
2014-2017 Voluntary learning facilitator at self-directed school
2012-2015 Forest kindergarten committee
since 2007 Autodidactic research & study: attachment parenting, developmental psychology, childhood, peaceful, respectful, gentle & conscious parenting, self-directed learning, relationship skills, non-violent communication.
Multilingual & intercultural family life
2009 Mum of twin daughters
2007 Mum of a son
2005 Married
Travel, study, work around the globe
1998-2015 Consulting & project management in knowledge management, communication and learning in a global corporation
1996-1997 Year abroad at Ruprecht-Karls University, Heidelberg
1994-1998 MA Modern Languages at the University of Cambridge, England
1976 born in England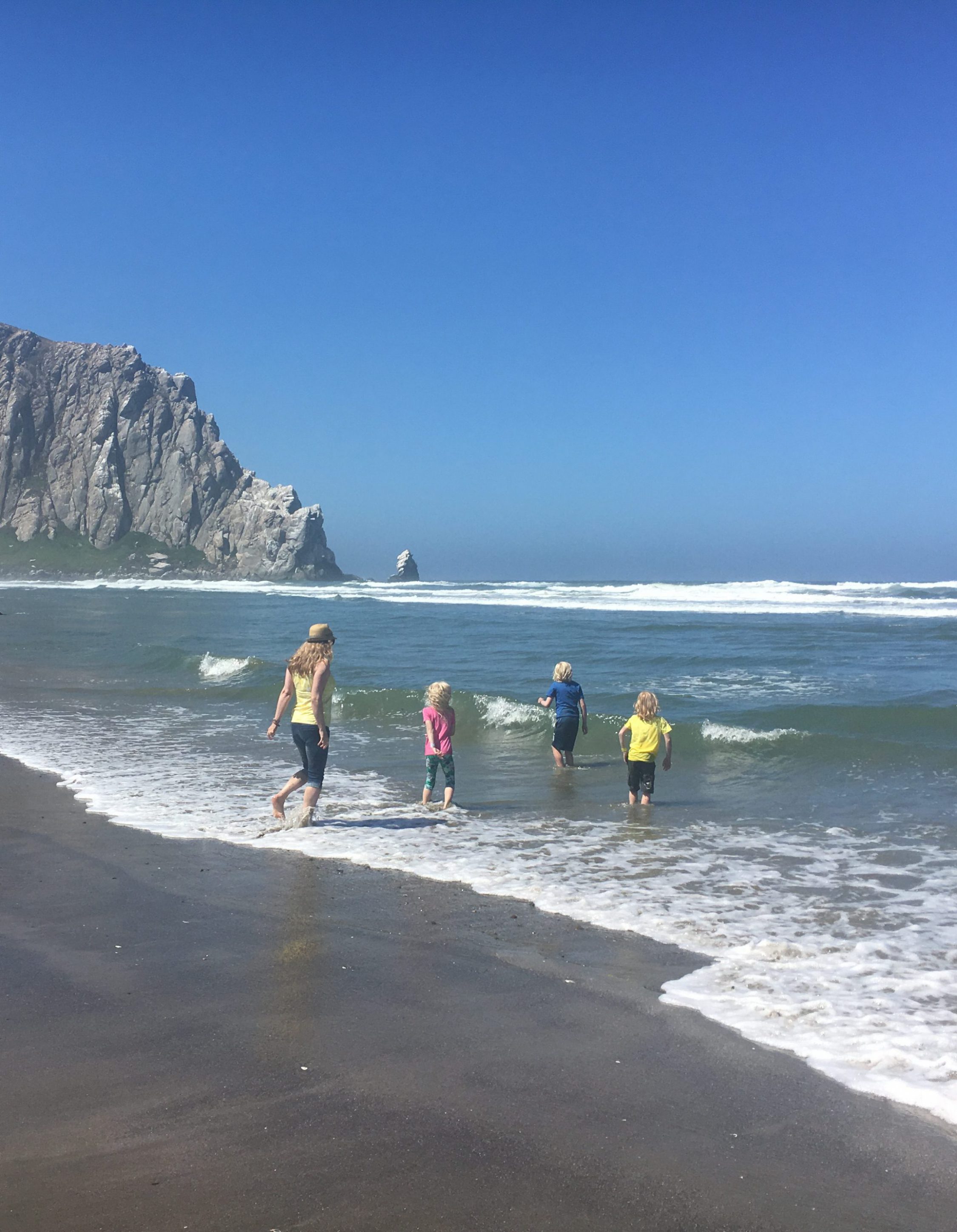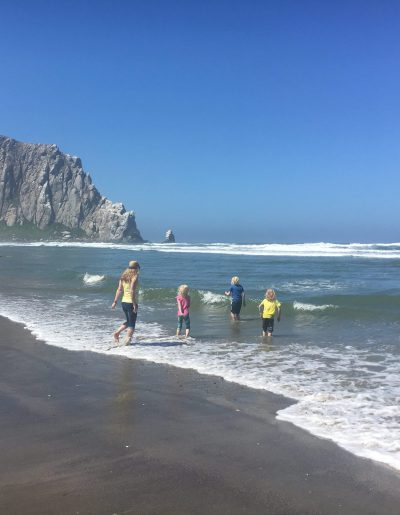 Want to know more about me?
Read more here…
I love children (and working with their parents and families) and believe that conventional beliefs around parenting and discipline do us all more harm than good. In my work, I focus on empathy, a peaceful, gentle and conscious approach to parenting and (family) life. Good for kids, good for parents, good for society and good for the world.

I was born in England where I grew up near the sea, which is my most favourite place in the world and my go-to place when I need to tank up on energy and centre myself.

I came to Germany as a young graduate and married a German. My passion for languages, different countries and cultures goes back to my school days, when I learned and then studied languages. Now I get to live my linguist-self's dream, see my kids grow up bilingually and be a part of the adventure that is family life across two languages, countries and cultures.

I love doing jigsaw puzzles. First the edge pieces, then fill in from there. That's why I love my work. Looking at what's happening on the outside (typically a particular behaviour or habit), then starting to piece together what's on the inside (beliefs, feelings and emotional needs). The edges provide a framework for understanding what's on the inside and how it all fits together. It's so satisfying to see the full picture take shape.

As a student, I had a string of different jobs to finance my studies. I ran our college bar (good move as it kept me behind rather than in front of it), made record sales on the Boots perfume counter (selling last-minute gifts on Christmas Eve) and I was a Royal Mail postwoman (where a very happy home owner once gave me a big bar of chocolate for delivering her winning bond letter). Most satisfying was my work with kids on a Sports R Us holiday programme. This work not only saw me through my next term at college but it was so rewarding to see how the young people who arrived sullen and often aggressive in the mornings would blossom throughout the day once they experienced that someone was interested in them, accepted them for who they were, spent time with them and valued them as part of the team.

I'm a big Harry Potter fan and lucky enough that my kids and husband are too. We once spent the whole day from first admission to gates closing at Universal Harry Potter World casting spells and drinking butter beer in Diagon Alley.

A Find your perfect job quiz at school concluded I should be a librarian. Looking at my bookshelves and the number of books I have today, this may not have been so far off. I have a unique collection of Jane Austen, 18th century French philosophers, 20th century modernists, dictionaries, travel guides, Harry Potter, self development and neuroscience, parenting, as well as everything and anything that Brené Brown writes.

I've been a full-time working professional in a global corporation, a part-time working mum and a stay-at-home mum. Today I'm a business owner and work-from-home mum. We don't have grandparents or extended family living near us and I know the reality of work-family-life balance, being a parent and family without a big family network close by.

I'm passionate about learning, self-directed education, human potential and changing the paradigm in adult-child relationships in educational settings. As a family, we're active in the community of the self-directed school our kids attend and through my work, I'm proud to support projects and organisations that are doing amazing work for children, families and our planet with 10% of all profits.

I love to travel. I've been lucky enough to see some beautiful places in our world. I love being in nature and in big cities. London's home and Berlin's like visiting a good friend. Travelling with my family is one of my greatest joys and I have a very long list of places I still want to see in my lifetime.

I love my work! I love connecting with people, sharing stories and experiences, and I love the science and research that is so important when it comes to understanding our kids and ourselves, how our brains work, what emotional well-being means for our health (and the health of our society). I love seeing the difference it can make to people's lives – parents, families, their kids and ultimately humankind – when we change the way we parent and enable each and every one of us to lead peaceful, intentional, fulfilling and joyful lives.
Does that sound like something you want too?
What other parents say about working with me
Totally fabulous! You are really wonderful; very approachable, easy to connect with online. I felt immediately comfortable being vulnerable with you about my parenting insecurities, and trusted your experience. It's clear that you are a pro, you asked very insightful and clarifying questions. I felt immediately understood and supported, and left with real and actionable info.
I am so happy with your course. It makes me think so much about my relationships at home (and also outside) and it motivates me to change. I really want to thank you for guiding us through this huge positive transformation in our way to see and feel the world.
I felt like I didn't understand my daughter's behavior, why she acted out, what was bothering her, etc. I felt helpless

Now I feel like I understand that there is a connection between the behavior and the real issue behind it. The realization that there is something behind the behavior is huge. Now I am aware….. There still is a lot of work to do but the first step is knowing what I have to do. I feel like I have some tools to help me

Your calm is also a big part of making the participants feel comfortable.
Working with Karen really helped me!
Karen's very likeable and had a way of making me feel very comfortable. As a coach, she not only shared her knowledge but saw me as as a person. She connected with me on a personal level, which enabled me to build trust. She was well prepared for our sessions and introduced each topic thoughtfully, which I think is really important when talking about emotional topics like children, being a mum, and relationships. She listened carefully to me and was attuned to my way of thinking. Karen has a great deal of expert knowledge and offered new ways of seeing things that all made a lot of sense to me. I left our coaching sessions with lots of new ways of thinking as well as a concrete idea of what I could do differently in our everyday family life. I always felt as though she was listening to me and that she was hearing me. That was very helpful and exactly what I want as a client.
Karen's very empathetic and a great coach who finds wonderful words.
The course was very valuable for me. After just one module, I was able to see our daily routine and the way our child was behaving in a different light. I could see why she was behaving in that way and understand what she really needed. We made a small adjustment to our daily routine, which had the big effect that now I and my kids can start our day less stressed, happier and feeling more connected to each other.
Our meeting was so, so fabulous, and I've found the paradigm shifts that we discussed really informing my mindset during some challenging behaviors/emotional states that have come up around the end of the school year!  So fantastic!
Karen's a great personality! I know few people who communicate so respectfully with children. She really helped me with my concerns.
Can highly recommend! Karen's great!