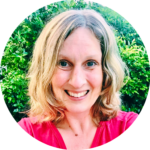 Lovely to meet you!
Thank you for signing up for email updates. Before I can start sending you emails, you'll need to confirm that you really do want to get them. This is what you'll need to do:
Please check your email inbox for a confirmation email from me (it's called Important: Confirm your email address…)
If you don't receive my confirmation email in your inbox, please check your spam folder.


Click the link to confirm (it's the red button that says Confirm my subscription)
Hooray! Once you've confirmed, you'll get my email updates with insights, inspiration and my best resources for more ease, calm and joy in parenting and family life!
So glad we're connected!
Karen